Welcome to the monthly real estate statistics newsletter.
You will have probably read the news about the Bank of Canada raising it's rate up to 4.75%, which will have a knock on effect for mortgage rates. The banks next meeting is in July and the general consensus is that rates could go up again at least once more this year, but will be dependant on inflation/economic growth figures and this is already the highest rate we have seen since 2001.
The real estate market peaked in the first quarter of last year but then the interest rates started going up and we saw a slow down. The last rate rise was in January of this year and after this we saw some confidence return to the market and that combined with low inventory levels meant we were even seeing some multiple offers, although thankfully not on the scale of the last few years. So although the tables and graphs below indicate we were starting to see a slight recovery in the market this latest rate rise will likely slow everything down again.


Real Estate Statistics

Synopsis for Nanaimo
The graphs below show the median sold price, sold numbers and number of new listings since the beginning of each year (freehold homes only.)
Median Sold Price:
Sold Numbers:
Number of new listings:
The following graphs shows the % difference of the housing price index (HPI) from the same month 6 and 12 months ago. It is split into the different sub-areas (the overall figure for Nanaimo is on the left of the graph) and is for single family homes.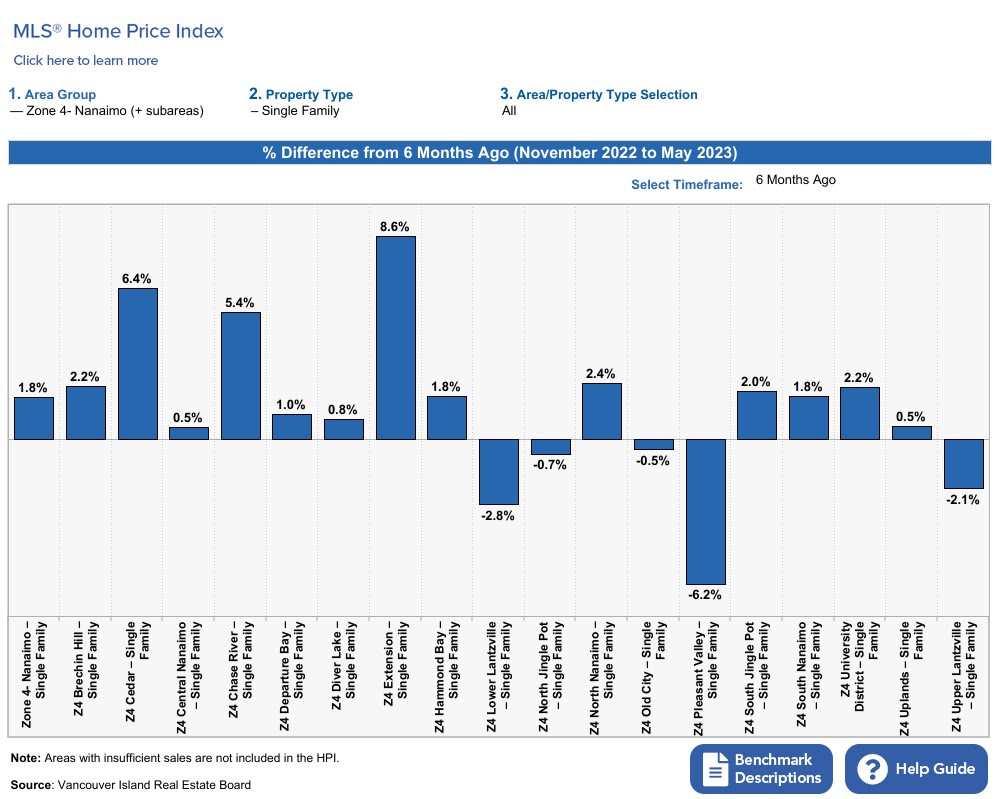 The following graphs are for Nanaimo and show the sales numbers against new listings and sales numbers against total active listings. This is helpful to show how the market is doing as the closer the 2 lines come together on each graph generally indicates a busy active market.
The following graph is for Nanaimo and shows the months of inventory. This is the time it would take the current freehold, single family homes for sale, to sell, if no new homes were listed, which indicates whether we have a sellers, balanced or buyers' market.
These figures do concentrate on single family homes but if you would like similar information for other property types, such as apartments or patio homes, or specific geographical areas of Nanaimo or Parksville/Qualicum, then I would be more than happy to discuss those with you as well.
As always I hope you find these monthly newsletters informative and if at any time you or any of your friends, relatives or co-workers are looking for a professional realtor to help them buy or sell a home, or just have a real estate question, please call my personal cell, 250-739-1228, or drop me an email.
Thank you,
Ian