Wishing you all a very Merry Christmas and a happy and healthy New Year.
November 2016

October 2016

November 2015

Nanaimo

Unit Sales:

98

114

107

Average Sale Price:

$472,137

$473,203

$400,977

Parksville / Qualicum

Unit Sales:

46

68

54

Average Sale Price:

$493,898

$486,288

$431,768
Nanaimo home sales decreased 8% in November 2016 when compared with November 2015. The average sale price increased 18%. The median house price was $445,000.
Parksville/Qualicum home sales decreased 15% in November 2016 when compared with November 2015. The average sale price increased 14%. The median house price was $482,000.
Synopsis
In Nanaimo for November 2016 there were 229 active listings of single family freehold homes, which is 27% less then November 2015.
The graphs below are for Nanaimo and show the average sold numbers and average sold price since January 2013 (single family homes only.)

The following graph shows the % difference of the housing price index (HPI) from the same month 12 months ago. It is split into the different sub-areas and is for single family homes.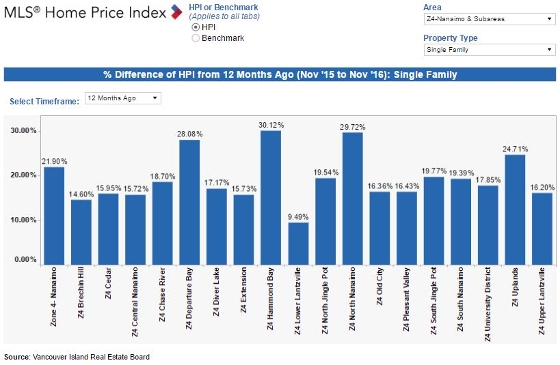 Due to the lack of inventory currently available the following graph shows what is called the absorption rate. This is the time it would take the current homes for sale to sell if no new homes were listed, which indicates whether we have a sellers, balanced or buyers market.
The Bank of Canada announced yesterday morning that it is holding the target for its overnight rate at 0.5 per cent. In the press release accompanying the interest rate decision, the Bank noted that uncertainty in the global economy is undiminished in recent months while Canadian economic growth is evolving as anticipated. On inflation, the Bank cited that although CPI and core inflation have picked up, both measures remain below the Bank's 2 per cent target.

With long-term interest rates jolted upward by the US election, the Bank of Canada is likely content to keep its overnight rate on hold at 0.5 per cent over the next year. That said, the stark unpredictability of the incoming Trump administration on everything from trade to taxes to financial markets means that risk in the economy is tilted to the downside. Therefore, there remains the potential for a rate-cut by the Bank of Canada should economic conditions and the outlook for inflation deteriorate.
These figures do concentrate on single family homes but if you would like similar information for other property types, such as apartments or patio homes, or specific geographical areas of Nanaimo or Parksville/Qualicum, then I would be more than happy to discuss those with you as well.
As always I hope you find these monthly newsletters informative and if at any time you or any of your friends, relatives or co-workers are looking for a professional realtor to help them buy or sell a home, or just have a real estate question, please call my personal cell, 250-739-1228, or drop me an email.
Thank you and happy holidays,