Click image to play video.
What will the real estate market do during this time?
As you can imagine I have been asked this question more than once recently. There is no magic answer as none of us knows - we are in uncharted territory. What we do know is that real estate is one of three of mankind's basic needs. Clothing, food and shelter. People need a place to live. When the quarantine/isolation is over and people feel safe, jobs are restored, our sense is that the marketplace will pick up where it left off based on the simple economic principle of supply and demand.
In the meantime, we are certainly going to see a reduction in the number of homes listed for sale and sold. There will still be sales going on as there are cases where people are in situations where they need to sell or buy. Here at Royal LePage we have instigated company wide protocols, as guided by public health authorities and the government, to aid the process and mitigate any health risks during the pandemic.
Below you will see the statistics for March but we believe the April numbers will give a clearer indication of how the market is reacting as the majority of this months sales occurred in the first half of the month.
Real Estate Statistics for
March
2020
| | | | |
| --- | --- | --- | --- |
| | March 2020 | February 2020 | March 2019 |
| Nanaimo | | | |
| Unit Sales: | 90 | 66 | 94 |
| Average Sale Price: | $592,262 | $600,648 | $544,705 |
| | | | |
| Parksville / Qualicum | | | |
| Unit Sales: | 56 | 41 | 47 |
| Average Sale Price: | $622,137 | $660,216 | $590,299 |
Nanaimo home sales decreased 4% in March 2020 when compared with March 2019. The average sale price increased 9%. The median house price was $565,000.
Parksville/Qualicum home sales increased 19% in March 2020 when compared with March 2019. The average sale price increased 5%. The median house price was $600,000.
Synopsis for Nanaimo

In Nanaimo for March 2020 there were 288 active listings of single family freehold homes, which is 8% lower then March 2019.

The graphs below are for Nanaimo and show the average sold numbers and average sold price since 2016 (single family homes only.)




The following graph shows the % difference of the housing price index (HPI) from the same month 12 months ago. It is split into the different sub-areas and is for single family homes.


The following graph shows what is called the absorption rate. This is the time it would take the current homes for sale, to sell, if no new homes were listed, which indicates whether we have a sellers, balanced or buyers market.


The following graph shows how the homes sold v homes listed v total number of active listings have changed over the previous years.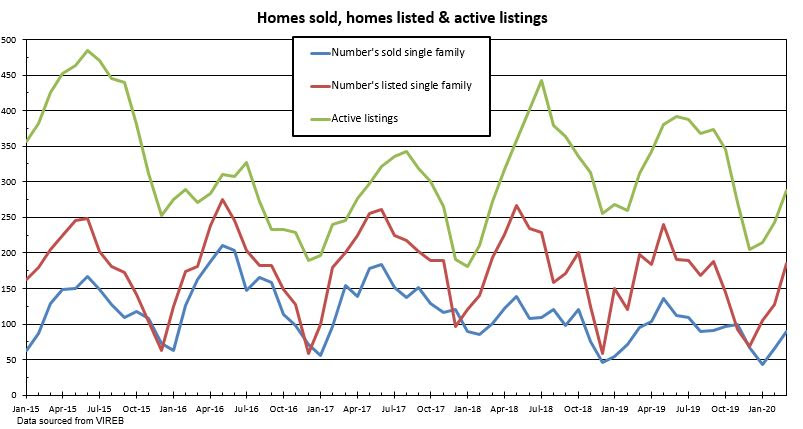 These figures do concentrate on single family homes but if you would like similar information for other property types, such as apartments or patio homes, or specific geographical areas of Nanaimo or Parksville/Qualicum, then I would be more than happy to discuss those with you as well.
As always I hope you find these monthly newsletters informative and if at any time you or any of your friends, relatives or co-workers are looking for a professional realtor to help them buy or sell a home, or just have a real estate question, please call my personal cell, 250-739-1228, or drop me an email.
Thank you,
Ian