Real Estate Statistics for March 2015
March 2015

February 2015

March 2014

Nanaimo

Unit Sales:

129

87

115

Average Sale Price:

$408,070

$366,236

$372,472

Parksville / Qualicum

Unit Sales:

72

41

73

Average Sale Price:

$391,140

$343,987

$395,771
Nanaimo home sales increased 12% in March 2015 when compared with March 2014. The average sale price increased 10%. The median house price was $383,962.
Parksville/Qualicum home sales decreased 1% in March 2015 when compared with March 2014. The average sale price decreased 1%. The median house price was $374,000.
Synopsis
In Nanaimo for March 2015 there were 426 active listings of single family freehold homes and 272 in Parksville/Qualicum.
The graphs below are for Nanaimo and show the average sold numbers and average sold price since January 2012.
The following graph shows the % difference of the housing price index (HPI) from the same month 12 months ago. It is split into the different sub-areas and is for single family homes.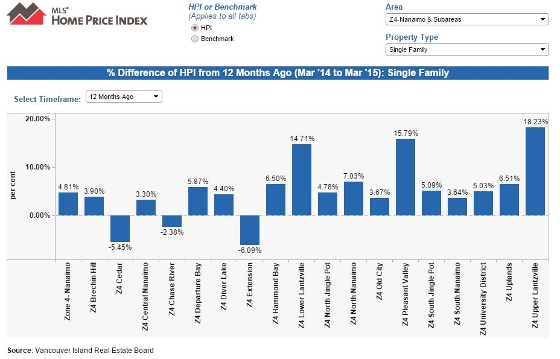 These figures do concentrate on single family homes but if you would like similar information for other property types, such as apartments or patio homes, or specific geographical areas of Nanaimo or Parksville/Qualicum, then I would be more than happy to discuss those with you as well.
Looking at the figures for Nanaimo I think we can safely say that the spring market is here and very busy. Both sales numbers and average prices are up making this an excellent time if you are looking to sell. Patio and town houses have also seen an increase in their average sales price for March and a slight increase in the numbers sold. Parksville/Qualicum is similar to last year but is also getting busier when you look at the previous month.
Garage sale in aid of the Shelter Foundation: if you are thinking of holding a garage sale this year then please consider holding it on Saturday May 9th and/or Sunday May 10th. We will provide signage, balloons, donation tin and advertising in local newspapers. You keep all proceeds from the sale and we just ask for a registration fee of $25. All of this fee goes towards our charitable foundation which supports The Haven Society so 100% of the money raised from the registration fee aids this very worthwhile local charity.
As always I hope you find these monthly newsletters informative and if at any time you or any of your friends, relatives or co-workers are looking for a professional realtor to help them buy or sell a home, or just have a real estate question, please call my personal cell, 250-739-1228, or drop me an email.
Thank you
Ian Hodson