Real Estate Statistics for August 2016
August 2016

July 2016

August 2015

Nanaimo

Unit Sales:

166

147

128

Average Sale Price:

$453,729

$423,511

$388,943

Parksville / Qualicum

Unit Sales:

96

97

80

Average Sale Price:

$506,398

$496,788

$413,959
Nanaimo home sales increased 30% in August 2016 when compared with August 2015. The average sale price increased 17%. The median house price was $419,900.
Parksville/Qualicum home sales increased 20% in August 2016 when compared with August 2015. The average sale price increased 23%. The median house price was $470,000.
Synopsis
In Nanaimo for August 2016 there were 272 active listings of single family freehold homes and 166 in Parksville/Qualicum.
The graphs below are for Nanaimo and show the average sold numbers and average sold price since January 2013 (single family homes only.)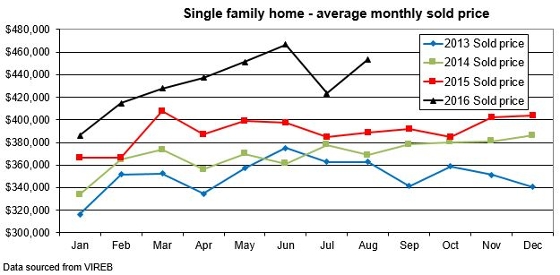 The following graph shows the % difference of the housing price index (HPI) from the same month 12 months ago. It is split into the different sub-areas and is for single family homes.
The Bank of Canada announced last week that it is holding its target for the overnight interest rate at 0.5 per cent. In the press release accompanying the decision, the Bank noted that weaker than expected growth in the global economy, and in particular in the US economy, has hurt Canadian exports and business investment in the first half of the year. On inflation, the Bank noted that total CPI inflation is below its 2 per cent target mainly due to temporary effects of low energy prices while core measures of inflation remain on target. Overall, the Bank judges risks to the economy and the profile for inflation as somewhat tilted to the downside, pointing out a possible moderation in the Vancouver housing market and financial vulnerabilities associated with high household debt.
These figures do concentrate on single family homes but if you would like similar information for other property types, such as apartments or patio homes, or specific geographical areas of Nanaimo or Parksville/Qualicum, then I would be more than happy to discuss those with you as well.
As always I hope you find these monthly newsletters informative and if at any time you or any of your friends, relatives or co-workers are looking for a professional realtor to help them buy or sell a home, or just have a real estate question, please call my personal cell, 250-739-1228, or drop me an email.
Thank you