Nanaimo Real Estate Statistics for October 2016
October 2016

September 2016

October 2015

Nanaimo




Unit Sales:

114

157

117

Average Sale Price:

$473,203

$478,390

$385,099










Parksville / Qualicum

Unit Sales:

68

68

58

Average Sale Price:

$486,288

$490,360

$418,291
Nanaimo home sales decreased 3% in October 2016 when compared with October 2015. The average sale price increased 23%. The median house price was $450,000.
Parksville/Qualicum home sales increased 17% in October 2016 when compared with October 2015. The average sale price increased 16%. The median house price was $462,500.
Synopsis
In Nanaimo for September 2016 there were 233 active listings of single family freehold homes and 126 in Parksville/Qualicum.
The graphs below are for Nanaimo and show the average sold numbers and average sold price since January 2013 (single family homes only.)
The following graph shows the % difference of the housing price index (HPI) from the same month 12 months ago. It is split into the different sub-areas and is for single family homes.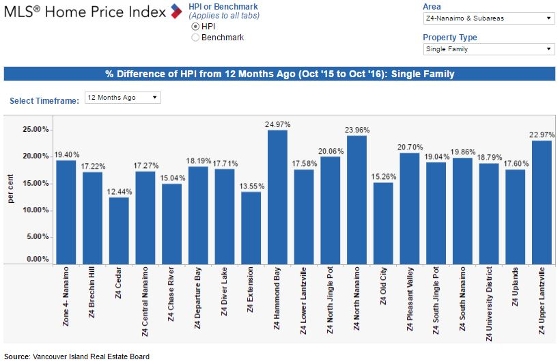 Due to the lack of inventory available currently the following graph shows what is called the absorption rate. This is the time it would take the current homes for sale to sell if no new homes were listed, which indicates whether we have a sellers, balanced or buyers market.
I could not send out this month's market report without a brief comment on the election south of the border. There have been lots of talk, both serious and humorous, about its possible affect on us in Canada. It is obviously early days to tell if there will be any affect regarding interest rates or a mass migration northwards! However, although the Canadian Immigration website did crash on election night I personally do not expect any mass movement of Americans to our great country, although any that did come would be more than welcome regardless of race, colour, sex or religious beliefs. Also, it has been documented that Trump does now not agree with the Federal Reserve and believes that interest rates (in the USA) are too low so I think it is quite possible that we will see rises once he is in the White House which would make the US dollar stronger against the Canadian and other currencies. So, if you are thinking of a trip down south it may be better doing it sooner rather then later as you may end up getting less for your loonie then you do now!
Anyway, what will be, will be, the sun still rises in the morning and sets at night and I for one am thankful that I live in an amazing place in an amazing country.
As always I hope you find these monthly newsletters informative and if at any time you or any of your friends, relatives or co-workers are looking for a professional realtor to help them buy or sell a home, or just have a real estate question, please call my personal cell, 250-739-1228, or drop me an email.
Thank you